The Collin County Elected Officials are the ones that represent you at the county level. They have many jobs and responsibilities that impact your life on a daily basis. Get to know them and learn how to get involved.
Meet the other elected officials:
Mark Reid
Chairman
Mark was elected Chairman of the Collin County Republican Party in May of 2019.
972-424-1460 ext. 4631
Chris Hill
Collin County Judge
About Chris
Chris Hill was elected to serve as the Collin County Judge in 2018, having been previously elected as the county commissioner for Precinct 3 in 2012 and 2016. Chris is a sixth-generation native Texan and a fourth-generation resident of Collin County. His great-great-grandfather was a Collin County farmer in the early 1900s. Chris has been married to his high school sweetheart, Laura, for 20 years. Today, they live in Collin County with their three children.
Professional Experience
Prior to his election as county judge and county commissioner, Chris served as an Executive Pastor and worked as a corporate accountant and controller in both for-profit and not-for-profit organizations, gaining extensive financial and organizational leadership experience. Throughout his career, Chris has been responsible for directing and executing the full range of corporate accounting and financial functions, treasury operations, and financial analysis. He is a Certified Public Accountant (CPA), Certified Internal Auditor (CIA), Chartered Global Management Accountant (CGMA), and Certified Fraud Examiner (CFE). Chris is a member of the American Institute of Certified Public Accountants, the Texas Society of Certified Public Accountants, the Association of Certified Fraud Examiners, and the Institute of Internal Auditors.
Education
As the first person in his family to graduate from college, Chris earned a Bachelor of Political Science degree from Texas A&M University at Commerce. He also earned a Master of Accounting and Information Management degree from the University of Texas at Dallas, a Master of Business Administration degree from Webster University, and a Master of Pastoral Leadership degree from Columbia Biblical Seminary.
Community Service
Throughout his career, Chris has been an active volunteer and member of the community. He previously served as the Treasurer for the Collin County Republican Party, and in 2010, Chris was named the Collin County Republican Party Volunteer of the Year. He is a member of the Rotary Club of McKinney, the Kiwanis Club of McKinney, the Texas Home School Coalition, and a Life Member of the National Rifle Association. He currently serves or has served on the board of directors for The Samaritan Inn, Minuteman Disaster Response, Hope Women's Center, Boy Scouts of America Lone Star District, and the Allen Community Outreach Advisory Council. Chris is an Eagle Scout and a member of MENSA.
Elections
In all three of his campaigns (county commissioner: 2012 and 2016; county judge: 2018), Chris pledged that he would pursue limited government, low taxes, and excellence in every aspect of county government. In his five years as commissioner, Chris kept his promises and proved to be a courageous and consistent champion for private property rights, limited regulation, and government transparency. During those five years, Chris and the Commissioners Court reduced the property tax rate five consecutive times. Today, Collin County has the second lowest county property tax rate of all 254 Texas counties, and is a leader in the state of Texas in economic opportunity and county government efficiency.
972-424-1460 ext. 4676
Susan Fletcher
Collin County Commissioner – Precinct 1
Susan Fletcher serves as Collin County Commissioner for Precinct 1, representing West Plano, Frisco, Prosper, Celina and Northwest McKinney on the Commissioners Court. Married for 21 years, Susan and her husband, Brian, are 18-year residents of Frisco along with their 16-year old son, Patrick.  She has a professional background in commercial interior construction where she has worked both for corporate institutions in the banking and software industry as well as freelance as an independent contractor. Susan is a fierce advocate for our 2nd Amendment, a member of the National Rifle Association and holds a Concealed Handgun License.
972-424-1460 ext. 4626
Cheryl Williams
Collin County Commissioner – Precinct 2
Cheryl Williams was elected to three terms on Plano's City Council as the first district representative to east Plano, during some of the city's heaviest growth years, 1995-1999. She was the City Council's representative to the Plano Economic Development Board and the East Plano Development Task Force. Williams also was appointed by the Plano Mayor as liaison to the Planning and Zoning Commission and the Heritage Commission and by the PISD as a member of the Plano East School Based Improvement Committee. Prior to her council service Ms. Williams served on the Plano Community Relation Commission and her HOA Board. She earned her Bachelor's in Finance/Economics from SMU. She has been married to Don for 25 years and her two sons are both 4th generation Texans.
972-424-1460 ext. 4631
Darrell Hale
Collin County Commissioner – Precinct 3
My wife Marie and I have been married for 18 years and I have lived in the area for the past 21 years. We have four daughters whom we are raising as Christian leaders and we attend services in Allen. I am the son of a Korean War vet, and my parents were small business owners. I proudly received nominations to West Point from both Senators and my State Representative and ultimately accepted.
I accepted my appointment to West Point and after graduating was stationed at Fort Sill and Fort Hood. I went into the reserves and exited as a Captain. Since then I've worked in telecom, for a variety of startups in management and leadership roles. I took that entrepreneurial spirit with me starting a franchise that we grew to the largest of its kind in just three years. I credit that quick growth to my experiences among some of the nation's best military leaders and among some of the best tech leaders.
I am proud of my family, and my family's daily hard work at our business to serve our customers and deliver results consistently to our clients. We have been franchise of the year twice, and our team has received several awards. We recently sold our business and I now devote my full time to serving the residents of Collin County.
In my community involvements, I have participated with the Boys and Girls Club of Collin County on multiple Christmas bike builds, the Make-A-Wish Foundation making wishes come true. I am also a member of Team RWB, the National Rifle Association, Sons of the American Revolution, the Plano Bicycling Association, and Allen Kiwanis. I am also on the finance committee for my church, Our Lady of Angels Catholic Church.
Darrell Hale was elected as Collin County Commissioner, Precinct 3, in November 2018, filling an unexpired term for Precinct 3, vacated by newly-elected County Judge Chris Hill. Commissioner Hale will be up for re-election to a full four-year term in 2020.
972-424-1460 ext. 4631
Duncan Webb
Collin County Commissioner – Precinct 4
Duncan Webb has been a practicing attorney in Dallas and Plano since 1980, who has extensive public service from serving four, three-year terms as a member of the Board of Trustees of the Plano Independent School District, beginning in 1998. He has served as the school board's vice president and president in recent years. His legal background includes business law, tax and estate planning, real estate transactions, oil & gas law, and construction law. A Dallas native who has lived in Plano since 1983, he earned both his Bachelor's and Law Degree from SMU.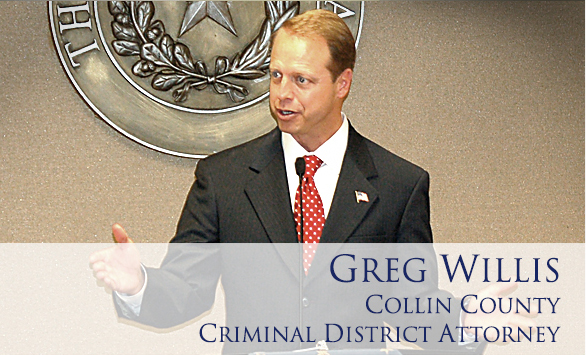 972-548-4323
Greg Willis
Collin County District Attorney
Greg Willis took office as the District Attorney for Collin County, but was no stranger to the courthouse. Willis presided over County Court at Law No. 6 from 2005 to October 2009, when he resigned to run for District Attorney. He also served four years as a Collin County prosecutor, beginning in 1995, before opening his own law firm in Plano. Before that, Willis worked in area law firms Haynes & Boone, and Jones Day. He is a 5th-generation Texan, born in Dallas, who earned his Bachelor's from Baylor University, and his law degree from the University of Virginia School of Law.
972-457-5100
Jim Skinner
Collin County Sheriff
Jim Skinner was elected as Collin County's 39th Sheriff in the 2016 general election and began his term on January 1, 2017. Sheriff Skinner is a 25-year law enforcement veteran, trial attorney and former prosecutor who now leads the 527 men and women of the Collin County Sheriff's Office; maintaining a direct supervision jail with almost 900 inmates on a daily basis, while providing law enforcement services to the citizens of the county.
972-547-5020
Kenneth Maun
Tax Assessor & Collector
It is the duty of the Tax Assessor-Collector to assess and collect for the County all taxes imposed on property within the county. The County Tax Assessor-Collector is designated by statute as the agent for the state Department of Highways and Public Transportation for collection of motor vehicle fees. Under the registration statutes, every owner of a motor vehicle is required to register it with the tax assessor in the county in which the owner resides. The County Tax Assessor-Collector is required to make bank deposits and reports according to the terms of several statutes. Under the laws regulating the county depository, the county tax collector is required to deposit all taxes collected by him for the state, county, or special districts for which he collects taxes.
972-548-4185
Stacey Kemp
County Clerk
Since taking office Ms. Kemp's office has won the Five Star Award and Exemplary Award 11 years in a row.
At the 64th Annual Conference on Vital Statistics in Austin on Dec. 10th-12th, the Collin County Clerk's office was presented for the year 2018 the Five Star Vital Registration Award by the Texas Department of Health, State Health Services Vital Statistics Unit. This award is presented annually for exemplary work in the area of Vital Registration. The criteria for qualifications of this award include timeliness of filing registrations entered into the state database by the clerk's office, extremely low error rate, annual training at conferences, use of the Texas Electronic Registrar (TER) for all birth, death and marriage registrations, completing an assessment survey, and use of State Dept. of Health required banknote paper.  Mrs. Kemp attributed the 2018 win to her staff, Lead Clerk Mary Collins, Pat Crosswhite, Amanda Segovia, Lucy Oman, Louann Fawcett and Tynea Kelley who have strived to maintain the high standards. The annual three-day conference included topics on Birth and Death Registration and  the process for filing Acknowledgements of Paternity in the new TXEver system which will go live statewide on January 1, 2019.
972-548-4320
Lynne Finley
District Clerk
The District Clerk performs the duties assigned by the Texas Constitution as registrar, recorder, and custodian of all court pleadings, instruments, and papers that are part of any legal cause of action in the District Courts of Collin County. Additionally, the District Clerk's office serves as a passport acceptance agent and provides jury services for all statutory District, County and Justice of the Peace courts in Collin County.