Our Federal Elected Officials represent us in the United States Congress. Their roles are defined by the Constitution of the United States. Get to know them and learn how to get involved.
Meet the other elected officials:
Dallas Office: (972) 239-1310
D.C. Office: (202) 224-2934
John Cornyn
U.S. Senator
Senator Cornyn was first elected to the Senate in 2002 and previously served in Texas as a district judge, a member of the Texas Supreme Court, and as Texas Attorney General.
While in the Senate, Sen. Cornyn has received various awards and recognitions, including the 2005 Border Texan of the Year Award; the National Child Support Enforcement Association's Children's Champion Award; the American Farm Bureau Federation's Friend of Farm Bureau Award; the Texas Association of Business's (TAB) Fighter for Free Enterprise Award; the National Federation of Independent Business's (NFIB) Guardian of Small Business Award; the National Coalition of Latino Clergy and Christian Leader's (CONLAMIC) Latino Leadership Award; the Texas Association of Mexican American Chambers of Commerce's (TAMACC) International Leadership Legislative Award; the Children at Risk Founders Award; and the Rape, Abuse, & Incest National Network (RAINN) Crime Fighter Award, among others.
Sen. Cornyn was born in Houston on February 2, 1952, and was raised in San Antonio. He is the son of John and Gale Cornyn, both native Texans. His father, a B-17 pilot in World War II, served for 31 years in the U.S. Air Force and, later, taught at the University of Texas Health Science Center in San Antonio. A graduate of Trinity University and St. Mary's School of Law, both in San Antonio, Sen. Cornyn also earned a Masters of Law from the University of Virginia Law School in 1995. He was named the St. Mary's Distinguished Law School Graduate in 1994 and a Trinity University Distinguished Alumnus in 2001. Sen. Cornyn is married to Sandy, his wife of 33 years. They have two daughters.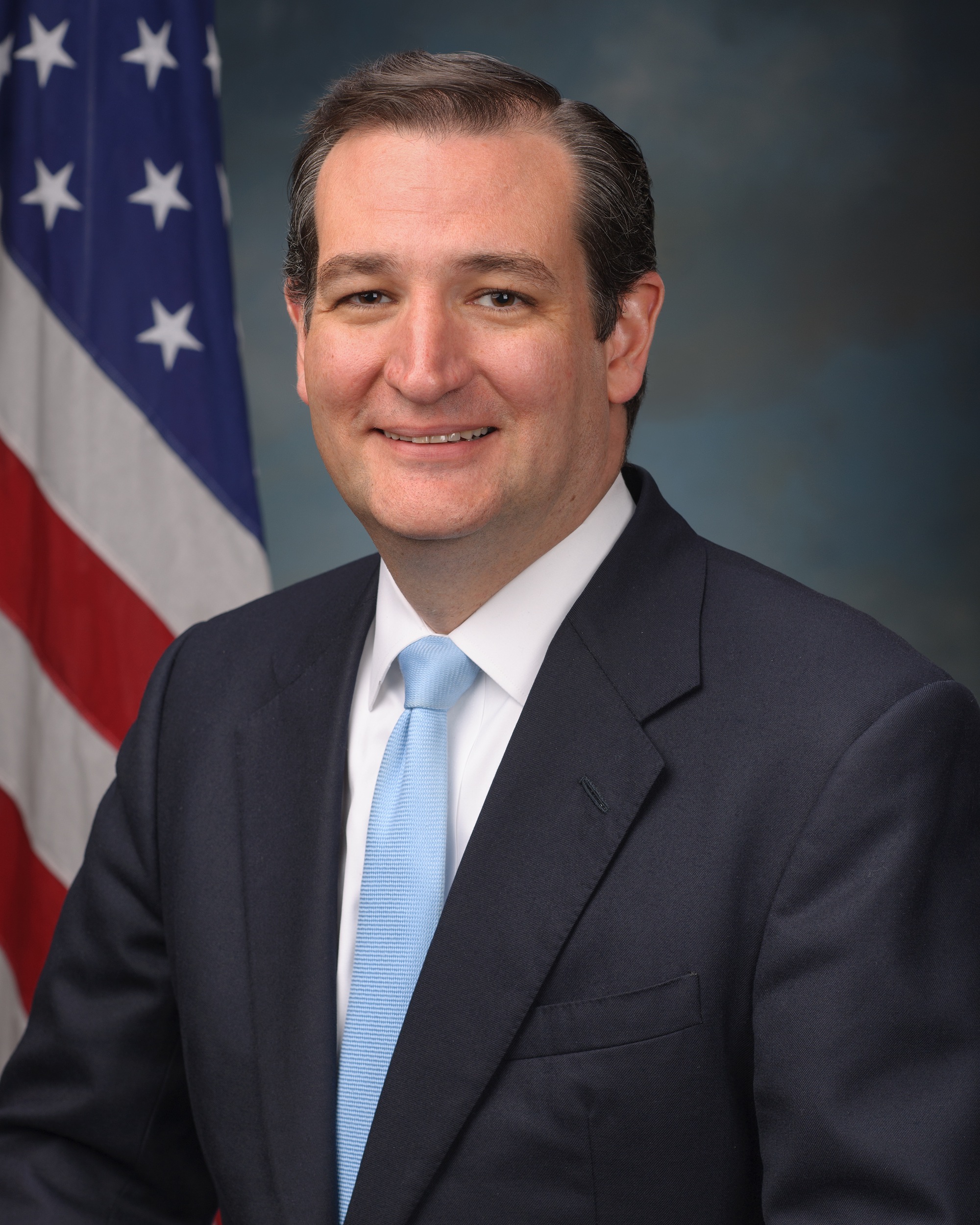 Dallas Office: (214) 599-8749
D.C. Office: (202) 224-5922
Ted Cruz
U.S. Senator
Ted's father was born in Cuba, fought in the revolution, and was imprisoned and tortured. He fled to Texas in 1957, penniless and not speaking a word of English. He washed dishes for 50 cents an hour, paid his way through the University of Texas, and started a small business in the oil and gas industry. Today, Ted's father is a pastor in Dallas.
Before being elected, Ted received national acclaim as the Solicitor General of Texas, the State's chief lawyer before the U.S. Supreme Court. Serving under Attorney General Greg Abbott, Ted was the nation's youngest Solicitor General, the longest serving Solicitor General in Texas, and the first Hispanic Solicitor General of Texas.
In private practice in Houston, Ted spent five years as a partner at one of the nation's largest law firms, where he led the firm's U.S. Supreme Court and national Appellate Litigation practice.
Ted has authored more than 80 U.S. Supreme Court briefs and argued 43 oral arguments, including nine before the U.S. Supreme Court. During Ted's service as Solicitor General, Texas achieved an unprecedented series of landmark national victories.
Ted graduated with honors from Princeton University and with high honors from Harvard Law School. He served as a law clerk to Chief Justice William Rehnquist on the U.S. Supreme Court. He was the first Hispanic ever to clerk for the Chief Justice of the United States.
Ted and his wife Heidi live in his hometown of Houston, Texas, with their two young daughters Caroline and Catherine.
Plano Office:
(972) 202-4150
D.C. Office: (202) 225-4201
Van Taylor
U.S. Representative, District 3
A seventh generation Texan, Van Taylor is a family man, businessman, and decorated Iraq War Veteran. Growing up, Van earned his Eagle Scout from the future President George Bush.
After high school, Van attended Harvard College from which he obtained a Bachelor of Arts in history. After graduating college, Van volunteered to serve his county and received a commission in the United States Marine Corps.
He attended The Basic School, Infantry Officer Course, and graduated first in his class from Sniper Employment Officer Course. He completed Intelligence School as the Marine Honor Graduate and commanded First Marine Regiment's Reconnaissance Platoon in Camp Pendleton, CA. After completing that assignment, he served as an intelligence officer for an artillery battalion. Van earned the Navy Achievement Medal for devising a quantitative combat power analysis system. 
Van Taylor joined the Marine Corps Reserves to continue serving his country while earning his MBA at Harvard Business School. He served in Fourth Civil Affairs Group, graduating from the John F. Kennedy School of Special Warfare at Ft. Bragg, NC. He joined 4th Reconnaissance Battalion as a platoon commander for Charlie Company.
On September 11, 2001, Van was serving his final day at the 4th Civil Affairs Group at the Anacostia Naval Annex. He was supposed to have lunch at the Pentagon that day, but instead watched smoke rise from across the Potomac River as the Pentagon burned from the 9-11 terrorist attack.
That day, Van swore to always serve and make a difference.
Two years after September 11, Van deployed to Iraq where he fought with 2nd Force Reconnaissance Company. While deployed, Van led the first platoon into Iraq for his brigade and a mission that rescued 31 wounded Marines during the pitched Battle of An Nasiriyah. For his service in Iraq, the Marine Corps awarded Captain Taylor the Combat Action Ribbon, Presidential Unit Citation, and the Navy Commendation Medal with "V" for valor.
Van and his wife, Anne, married after his return from Iraq and are the proud parents of three young girls: Laura, Helen, and Susie.
From April 2010 to January 2015, Van Taylor represented District 66 in the Texas House of Representatives. From January 13, 2015 – January 3, 2019, Taylor served as a Member of the Texas Senate, representing the Eighth Senate District of Texas. On January 3, 2019, Van Taylor was sworn in as a Member of the United States Congress, representing Texas Third Congressional District.
Congressman Van Taylor is proud to serve on two influential House Committees in the 116th Congress: the Committee on Homeland Security, specifically, the Subcommittee on Cybersecurity, Infrastructure Protection and Innovation (CIPI) and the Subcommittee on Oversight, Management and Accountability (OMA) and the House Committee on Education, where he serves on the Subcommittee on Early Childhood, Elementary and Secondary Education and the Subcommittee on Health, Employment, Labor, and Pensions. 
Today, Van, his wife, and their three daughters reside in Plano near the land Van's great-grandfather farmed during the Great Depression.
Rockwall Office: (972) 771-0100
Sherman Office: (903) 813-5270
Texarkana Office: (903) 823-3173
D.C. Office: (202) 225-6673
John Ratcliffe
U.S. Representative, District 4
John Ratcliffe is the Congressman representing the Fourth District of Texas. He is a limited government conservative with a well-established record of defending the Constitution and balancing budgets without raising taxes. He believes the strength of our country comes from the liberty and ingenuity of the American people, not the stifling overreach of the Federal Government.
John was raised by hard working middle-class parents, both teachers. The youngest of six children, John earned a scholarship to the University of Notre Dame, where he graduated in three years. While attending SMU Law School, John met his wife Michele with whom he has been happily married for 23 years. The couple has two daughters, and the family has lived in Heath, Texas for the past 17 years.
Richardson Office:
(972) 972-7949
D.C. Office: (202) 225-2231
Colin Allred – Democrat
U.S. Representative, District 32
Born and raised in North Dallas by a single mom who was a Dallas public school teacher, Congressman Colin Allred was student body president at Hillcrest High School and earned a full-ride football scholarship to Baylor University.
Diploma in hand and prepared to attend law school, Colin deferred his acceptance to play in the NFL. He was a linebacker for five seasons before sustaining a career-ending injury that opened the door for him to fulfill his other dream — becoming a civil rights attorney.
Colin served in the General Counsel's office at the U.S. Department of Housing and Urban Development. Colin later returned home to Dallas and decided to run for office to represent the district he grew up in.
As a Representative, Colin is dedicated to helping North Texas families gain the same opportunities he had to fulfill his dreams. Colin's top priorities in Congress are working to lower health care costs, protecting Medicare and Social Security, and creating an economy that works for everyone. Colin is passionate about expanding access to vocational and trade schools and lowering the cost of college so all North Texans have the shot at a middle-class job. He believes Congress must find common ground to rebuild our aging roads and bridges, pass comprehensive immigration reform and take care of our veterans.