The Texas Elected Officials are the ones that represent you at the state level. They work hard to ensure that Texas is an economic powerhouse and the citizens are able to retain their God given liberties. Get to know them and learn how to get involved.
Meet the other elected officials:
(512) 463-2000
Greg Abbott
Governor
Elected to serve as the 48th Governor of State of Texas, Greg Abbott has a strong record of conservative leadership as Texas' longest-serving Attorney General.
A husband and father, Governor Abbott has spent his career fighting to preserve Texas values like faith, family and freedom for future generations. As the state's chief law enforcement official, Governor Abbott made protecting Texas communities the focus of his tenure as Texas' longest-serving Attorney General.
(512) 463-0001
Dan Patrick
Lt. Governor
Dan Patrick was elected Lt. Governor of Texas in 2014, winning the general election by almost twenty points, including historic levels of support from Hispanic voters and women.
A principled and committed conservative, Lt. Gov. Patrick is leading the fight to secure the border, reduce property and business taxes, and address our state's infrastructure challenges to assure that Texas continues to flourish economically.
As Education Chairman in the 83rd Legislative Session, Lt. Gov. Patrick passed some of the most far-reaching education reforms in decades, tackling the problems of failing public schools and giving parents more choices for their children.
Dan was twice elected to the Texas Senate from District 7 in Houston and Northwest Harris County. He is a successful small businessman and radio host and is a former television anchor, sportscaster, musician, Christian author and movie producer.
Dan is also involved in his community. He has raised over $16 million for children with disabilities through his radio show and started the first seminary in a Texas prison to train long-serving inmates for the ministry.
Dan has been married to his wife Jan, a former schoolteacher, for 39 years. Their son Ryan is a Harris County Criminal Court District Judge in Houston. Their daughter Shane is a registered nurse. Dan is also the proud grandfather of three grandchildren.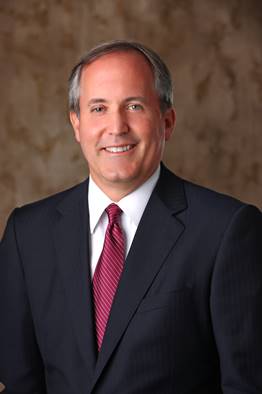 Ken Paxton
Attorney General
Ken Paxton is the 51st attorney general of Texas. He was elected on November 4, 2014, and sworn into office on January 5, 2015.
As the state's top law enforcement officer, Attorney General Paxton leads more than 4,000 employees in 38 divisions and 117 offices around Texas. That includes nearly 750 attorneys, who handle more than 30,000 cases annually – enforcing child support orders, protecting Texans against consumer fraud, enforcing open government laws, providing legal advice to state officials, and representing the state of Texas in court, among other things.
His first major initiative as attorney general was the formation of a special unit dedicated to combating human trafficking in Texas. During its first year of existence, the Human Trafficking and Transnational Organized Crime (HTTOC) section helped arrest the chief executive officer of Backpage.com, the largest online sex-trafficking marketplace in the United States.
Under Attorney General Paxton's leadership, the agency's Child Support Division is recognized as the most successful and cost-effective program in the nation. In fiscal year 2016, the division collected $4.096 billion for Texas families – an unprecedented amount in one year by any state. This success helped spare the state and Texas taxpayers over $1 billion in public assistance costs.
Attorney General Paxton is focused on protecting Texans and upholding Texas laws and the Constitution. Fighting federal overreach, he filed 22 lawsuits against the Obama administration during a two-year stretch, of which five were heard in the U.S. Supreme Court. During his tenure in office, Attorney General Paxton has won major cases for Texas on immigration, school rights, EPA rules and religious freedom. Stopping the Environmental Protection Agency's "Regional Haze" rule averted higher energy rates for Texans. Businesses were protected and jobs preserved in Texas when Attorney General Paxton prevailed against the Department of Labor's "Overtime Rule."
In 2016, Attorney General Paxton secured a final settlement of $50 million in the state's lawsuit against VW over its emissions cheating scandal. Texas also stands to benefit from as much as $191 million from VW for projects designed to mitigate environmental harm done by the carmaker. Attorney General Paxton has been aggressive in his approach to protecting the health and safety of Texans from illegal synthetic drugs. His office has filed more than a dozen lawsuits to block the sale of synthetic cannabinoids (known as Kush and Spice) in Texas. A special section on the agency's website provides Texans with the information and resources they need to become fully informed about the dangers of synthetic drugs.
Attorney General Paxton graduated from Baylor University, where he served as student body president, earning a B.A. in psychology and an M.B.A.  After receiving a law degree from the University of Virginia School of Law, he worked as an attorney at Strasburger & Price, LLP, in-house counsel for J.C. Penney Company, and headed up his own law firm for 14 years in McKinney.
First elected to the Texas House of Representatives in 2002, Attorney General Paxton represented House District 70 for 10 years, one of the fastest-growing regions in the state. In 2012, he was elected to the Texas state Senate, representing Senate District 8 in Collin and Dallas counties.
He met his wife Angela, a guidance counselor at Legacy Christian Academy in Frisco, while they were students at Baylor. The Paxtons have four children: Tucker, Abby, Mattie, and Katie. They are members of Prestonwood Baptist Church in Plano.
Allen Office:
(972) 908-3424
Austin Office: (512) 463-0108
Angela Paxton
Texas State Senator, District 8
Angela Paxton is a proud native Texan who has lived, served the community, and raised a family in McKinney, Texas, for over two decades. An adopted child, she was born on Valentine's Day, 1963, in New Braunfels, Texas, and was welcomed into her new family the day after her birth. She was raised in Mansfield, Texas; her father worked at Bell Helicopter and her mother was a teacher's aide. 
Angela graduated from Baylor University with a degree in Mathematical Science and became the first person in her family to graduate from college. She later earned her Master's degree in Education from the University of Houston—Clear Lake and began a 22-year career in education. 
Angela Paxton's career as a secondary math teacher and a guidance counselor in public, private, and home school settings uniquely equips her to passionately advocate for student achievement and teacher effectiveness, and her background in mathematics and computer science positions her to champion the opportunities and challenges of the growing technology industry in Senate District 8 and Texas. She is also an unwavering voice on pro-life issues, including adoption and human trafficking. 
Angela and her husband, Attorney General Ken Paxton, met at Baylor University. They have been married since 1986 and have four grown children. The Paxtons are members of Prestonwood Baptist Church in Plano.
Austin Office: (512) 463-0130
Pat Fallon
Texas State Senator, District 30
Pat Fallon, a dedicated and life long constitutional conservative, is the son of retired public school teachers. Pat grew up in a rural area and was taught from an early age the priceless value of a good, honest, hard day's work. 
As a graduate of the University of Notre Dame, Pat was an Air Force ROTC cadet and also a member of the 1988 National Championship Football Team under Hall of Fame Coach Lou Holtz. 
After 4 years as a US Air Force Officer and serving at Sheppard AFB in Wichita Falls, Texas, Pat embarked on an entrepreneurial career and now is the President and CEO of Virtus Apparel. 
Pat is committed to limited government, low taxes, religious liberty, personal responsibility, the 2nd Amendment, property rights, government transparency, and protecting life. 
In January 2016, in an effort to raise funds and awareness for pediatric cancer research, Pat successfully completed the World Marathon Challenge, where competitors attempt to run 7 marathons on all 7 continents in 7 consecutive days. Pat was the first novice runner in the world to complete the '777'. 
Pat has been married to his beautiful wife, Susan, since 2004 and they have two wonderful sons, Thomas and Mac (and a mischievous puggle named Bowzer).
Rockwall Office: (972) 722-7887
Austin Office: (512) 463-0484
Justin Holland
Texas State Representative, District 33
A sixth-generation Rockwall native and REALTOR® since 2006, Justin grew up in a hardworking, and self-reliant family. Justin learned at an early age the value of personal responsibility and dedication in business from his father, Lance Holland. Justin's father also taught him that giving back to the community and always acting in the best interest of your customers are the keys to success–both in business and life. Justin, along with business partner Leighton Pinkham purchased the family business on January 2, 2014. Guided by these lessons, Justin operates Regal Realtors as co-owner and recently helped lead the family real estate business to being named "Small Business Partner of the Year" in 2014-15 by the Rockwall Area Chamber of Commerce.
Justin was sworn in for the 85th Legislature on January 10, 2017. Texas House District 33 includes Rockwall County and portions of Collin County. In the community, Justin previously served five years as a member of the Heath City Council – two years elected as Mayor Pro Tem. He is a member of Rockwall Rotary Club, a 2014 graduate of Leadership Rockwall, former Vice President of the Heath Economic Development and Municipal Benefits Corporations, an endowed member of East Trinity Lodge #157, a member of the Rockwall Republican Men's Club, a former member of the City of Heath Special Events Board, a volunteer for Rockwall County Relay for Life, past director of the Rockwall ISD Education Foundation and an active volunteer for Rockwall County Helping Hands.
Justin and wife Neely have been married since 2008 and are raising two young girls. The Hollands are active members of Lake Pointe Church in Rockwall, Texas.
Austin Office: (512) 463-0594
Matt Shaheen
Texas State Representative, District 66
Long active in community and civic affairs, Matt served as Chairman of the Plano Community Relations Committee and as a member of the Plano Transition and Revitalization Commission. He currently serves on the Finance Committee of the Colonial PGA Golf Tournament.
A native of Virginia, Matt received his Bachelor's degree from Randolph-Macon College, where he received All Conference honors in football in the Old Dominion Athletic Conference. Matt also holds a Master's degree from SMU.
Plano Office: (972) 424-1419
Austin Office: (512) 463-0544
Jeff Leach
Texas State Representative, District 67
State Representative Jeff Leach's conservative convictions are deeply rooted.  Jeff is dedicated to reducing the size and scope of government and lowering taxes to create more economic freedom for individuals, families and businesses in Texas while at the same time being committed to meeting the essential demands of a rapidly growing state. During the 83rd Legislative Session, Jeff authored and championed a provision to limit the reckless expansion of the Texas Medicaid Program under Obamacare – a huge win for Texas taxpayers.  Additionally, Jeff successfully authored and passed legislation providing substantial tax relief for small businesses subject to the onerous franchise tax, encouraging job growth in Texas and broadening the state's tax base.  Jeff worked passionately on criminal justice issues, passing legislation providing tougher penalties for sexual offenders threatening our neighborhoods.  Jeff also co-authored legislation designed to meet the water infrastructure demands for the future of Texas as well as co-authoring legislation reforming public education curriculum in Texas.
Unashamedly and passionately pro-life, Jeff believes that one of the fundamental roles of government should be to protect innocent life, which is why he took part in authoring and joint-authoring substantial pro-life legislation, including the "Pre-Born Pain"Act" and the "Texas Parental Control Accountability Act."  Having been "A" rated by National Rifle Association and the Texas State Rifle Association, Jeff also authored and worked to pass laws designed to protect and promote the Second Amendment Freedoms of Texans.
Raised in Plano and a graduate of Plano Senior High School, Jeff attended Baylor University where he was elected to serve two terms as Student Body President.  During his time at Baylor, Jeff demonstrated his commitment to conservative values, serving President Bush in the White House Office of Political Affairs and the Republican National Committee.  Leach went on to earn his law degree from Southern Methodist University's Dedman School of Law and currently practices at the law firm of Gray Reed & McGraw, P.C. in Dallas.
Jeff and his wife Becky, a small business owner,  are proud parents of Brady (age 5) and Charlotte (age 3) and are active members of Prestonwood Baptist Church, where they have served for several years in the Young Families Ministry.
McKinney Office: (972) 548-7500
Austin Office: (512) 463-0356
Scott Sanford
Texas State Representative, District 70
Scott is a life-long Texan, and a Baylor Bear for about half of that time. He earned BBA and MTax degrees, and maintains a CPA license in the State of Texas. His career path includes positions at Ernst & Young, and ownership in two franchise endeavors. Scott has served Cottonwood Creek Baptist Church in Allen, TX (formerly First Baptist Church in Fairview) since 1997 and is currently the Executive Pastor.
Scott was elected in 2012 to the Texas House of Representatives. He proudly serves District 70, which includes the cities of Anna, Celina, McKinney, Melissa, Princeton, and Prosper. In Austin, Scott serves on 2 committees, including the Urban Affairs Committee, and the Human Services Committee.
Scott married Shelly Parks in 1987. They live in McKinney, the heart of the 70th House District. Their son, Ryan, graduated from McKinney Boyd High School. He is a junior at Baylor. Lauren, their daughter, is a senior at McKinney Christian Academy. Scott enjoys fishing, but likes catching even better. He is a water and snow skiing enthusiast, but not at the same time.
Austin Office: (512) 463-0186
Candy Noble
Texas State Representative, District 89
Representative Noble's committee assignments for the 86th Legislative Session include the House Committee on Ways & Means, the House Committee on Human Services, and the House Committee on General Investigating.
A twenty-six year resident of Collin County, Representative Noble is in her first term serving the residents of Texas House District 89. This fast-growing area includes some or all of Allen, Copeville, Fairview, Lavon, Lowry Crossing, Lucas, Murphy, Nevada, Parker, Plano, Sachse, St Paul, and Wylie. A strong proponent of education, Representative Noble has a degree in Education from Hardin-Simmons University in Abilene and serves on their Board of Development. Candy has been married to Robert for 35 years and they live in Lucas, where they are active members of Prestonwood Baptist Church. They have three daughters, three sons-in-law, and eight grandchildren.
(972) 342-6697
Pam Little
State Board of Education – Place 12
Residing in North Texas for more than 30 years, Pam Little, who represents District 12 on the State Board of Education, is a business owner and active community volunteer.  Along with Larry, her husband of 45 years, she is the co-owner of Ace Fence of DFW which they started from their garage 40 years ago and is now one of the largest fence companies in the metroplex.
Little, a Republican, was first elected to the State Board of Education in November 2018. She is vice chair of the Committee on Instruction, which oversees areas such as curriculum, instructional materials, gifted and talented education, graduation requirements, and education for individuals with disabilities.
A native Texan who grew up in the Bryan-College Station area, Little attended Texas A&M University and graduated from the University of Houston.  She and her family have lived in the Vineyards of Fairview for 14 years.
 
Little is an active community volunteer. She is an alumna of the Allen-Fairview Leadership class 24, past board member of the Allen Fairview Chamber, the Texas Federation of Republican Women, the executive board of the Plano Rotary, and the Junior League Community Advisory Board.
Little served as a community college instructor, teaching courses in small business management.  She also worked in educational publishing, retiring as a regional vice president from Houghton Mifflin Publishers in 2008.
Little is the mother of two children, who are both married and live in the McKinney area.  She and her husband  are grandparents of three grandsons.
As a member of the State Board of Education, Little represents the citizens of Collin County and part of Dallas County.